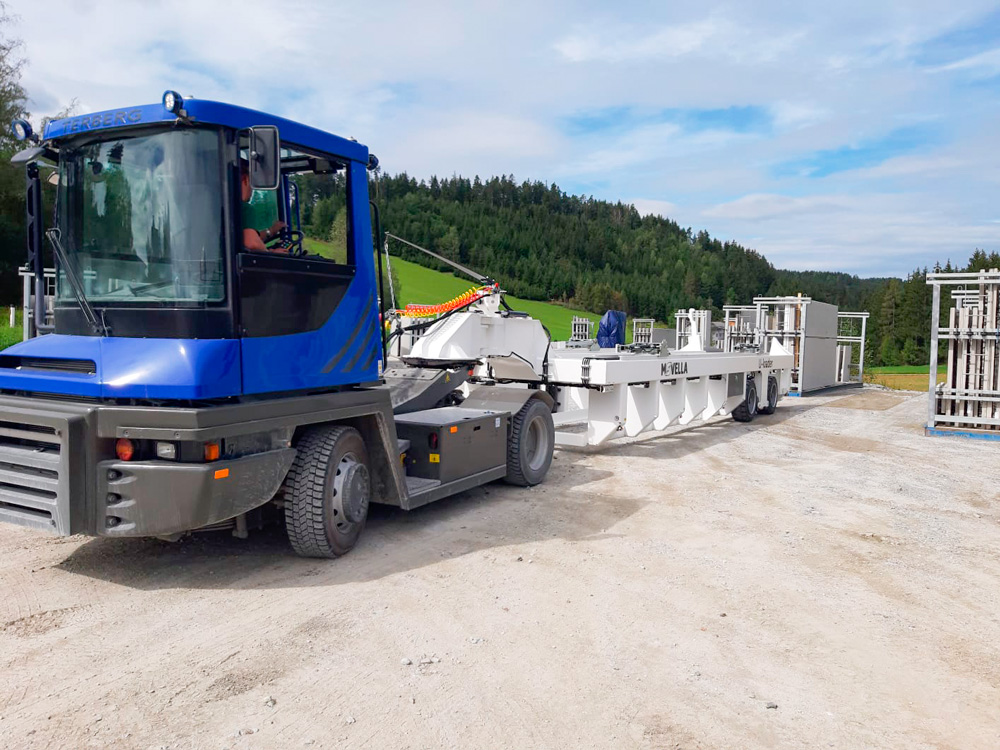 U-Loader for transport and warehousing of wall elements
Movella U-loader solves the warehousing problems in the wall element production and minimizes handling of the elements.
Movella U-loader is like the inloaders which are commonly used in the road transports but Movella U-loader is designed for internal logistics: it is safe, easy to use and technically robust. Movella U-loader is compatible to standard inloader flats. U-loader can be operated by a terminal tractor or a big forklift truck.
How to use the U-Loader in wall element factory
It improves safety
Less handling and lifting of elements

No need for driver to get out from the tractor's cabin

Cameras, lights and other safety features

Good visibility from driver's cabin
It saves money and environment
Even 50% faster to work than inloader for road transports

Less work and handling of elements

Robust machine with very little maintenance

More flexible warehousing
Movella U-Loader features
Movella U-Loader compared to traditional inloader
(Swipe left and right to see the table)
Movella
U-Loader
Conventional inloader
Compatible to standard flats
✔
✔
Safe – Open construction and good visibility
✔
–
Safe – Driver can stay in cabin when picking or leaving the flat
✔
–
Steering gooseneck helps picking up flats
✔
–
Maintenance free tyres
✔
–
Robust and simple construction
✔
–
Transports per hour*
12
8
* Based on customer who changed from traditional inloader to U-loader